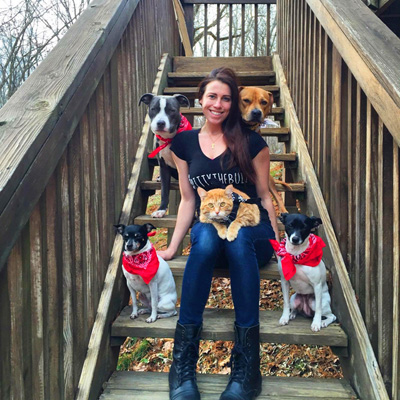 I've been following Kasey and her pack (@88kncorbett) for a few years and I've always been fascinated with the way she got her pack to take pictures, especially her cat, Mia!
I reached out to her to see if she would share her story on her pack and she was all about it. Not only is she a rescue advocate but she's also a perfect example of a pet owner who follows through on her responsibility. Thank you for sharing this part of your life with us, Kasey!!
Here's their story…
Roxy:
Roxy came into my life at the age of 19; I was a college student, who had never really given thought to owning a dog. I was uneducated about rescue and adoption and just uneducated on pet ownership in general. I saw Roxy in a pet store window, and she just so happened to be one of the few dogs that wasn't in a play room with a family potentially going to a new home that day. Because I felt sorry for her and her sad little eyes kept staring at me, I decided to take a break from Christmas shopping and play with her. When we got into a playroom, I saw that really all she did was curl up on my lap and shake. She had poop and urine stains on her paws and the odor coming from her was utterly disgusting. I couldn't help but just let her sleep on my lap in what I thought was a few moments of peace for her. The pet store was loud from people and barking, miserable dogs,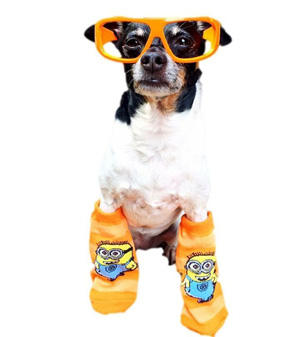 the puppy mill similarities still ringing so greatly in my ears. Roxy sat in the back of her crate that she shared with three other puppies and their feces and urine. I saw puppies in her crate eating kibble from their own poop and thought to myself, people seriously pay $800-$1,000 for these dogs? Where does all the money go? Obviously not to the care of the dogs. I let Roxy sleep on my lap for 30 minutes and left the mall. I did not finish my shopping, something had come over me and I was sick to my stomach. I got in my car and thought to myself, what in the heck did I just witness? How is this normal? I saw all these families and people shopping around the pet store like it was normal to keep dogs like this, it was normal for these dogs to have this life. I went home and didn't mention it to anyone in hopes to get it out of my head. Four days later I went back to the mall to shop and this time I was with my mom. When we passed the pet store, I couldn't help but feel the way I felt a week ago and had to show my mom what I had witnessed. We headed inside and pushed through the crowd standing in front of the glass windows that imprisoned the puppies. I went right up to Roxy's window and asked the associate to play with her. I didn't know what I was doing, or why I felt the need to see her, I felt like I had known her. I was drawn to her and it was a feeling I couldn't fight. That day, I brought Roxy home. It was the most insane amount of money I spent in such a short time, but nothing had ever pulled at my heart this way. After having Roxy for just a week, it was easy to see how badly she was suffering. Roxy had ear mites that had dwelled in her body so long they had traveled to her lungs, a terrible case of Giardia that left her with bloody stool and a frail body. She was very sick, but our vet took very good care of her and together we nursed her back to health. A month later, Roxy started walking funny and eventually couldn't put her hind leg down. She walked with it tucked up to her body. It was then that we learned Roxy was born without a hip joint, a deformity very common in puppy mill products. We decided surgery was the best option for Roxy and went through with the procedure and extensive physical therapy. She healed beautifully, so much, that she has hiked long miles and tall mountains and at 8 years old, is still at it eagerly. After her surgery, I began to dispute all these expenses I had to fork out as a result of where I purchased Roxy from with the pet store. I am proud to this day to say, I lead the fight that inevitably closed our local mall's pet store. It was glorifying! If I hadn't been one of those stupid, naïve people that had no knowledge of pet stores and puppy mills, I would have never had Roxy in my life and be the person I am today. Roxy changed me; she changed my soul and my complete way of life. To her, I will forever be in debt of something I can never give back to her. Every time I pass what used to be the pet store, I smile at all the lives I helped save from ever having to endure what Roxy did. I know its not as many as all the lives out there that need saving, but it's a start and it was our start in helping make a difference. Roxy helped me find my love for training and dog psychology. I taught Roxy 20 commands and tricks within the first 6 months of her life. When she was just two, we taught and trained ourselves to pass the AKC Canine Good Citizen test. A year later, we became a certified therapy dog team and still, visit hospitals, schools and nursing homes on a monthly basis.
Mia (the "catdog"):
When Roxy and I moved out of my parent's house, we hit the country. Cute, little cottage on acreage had fit us just perfectly. After a couple of weeks there, we realized that the country brought mice. After discussion with our landlord, he had encouraged me to get a cat. At first thought, I wasn't going to go out and get a cat just because of mice. I had never had a cat before and it made me nervous at first. I finally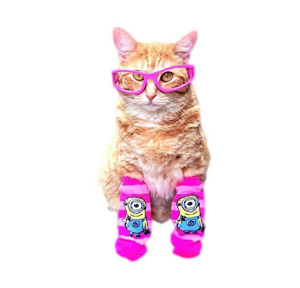 caved in after weeks of contemplation and headed over to a lady's house that worked with Stray Haven Cat Rescue. I walked in and immediately felt hesitant; she had about 15 kittens to choose from. She had taken such good care of them and I was highly impressed with the way she kept her home. One, only one kitten didn't have a tail. While I thought I was going to pick the laziest kitten that slept the whole time I was there, I was infatuated with this little girl with no tail that wouldn't stop jumping up on me to bite my ponytail. I wanted to get a good look at her, so I reached down, picked her up and looked her straight in the eyes. She was mine; I knew it because I felt it. With that, we were on our way home. The lady I adopted her from saved her from the highest kill shelter in our state just an hour before she was going to be put down. As I drove home, I looked at her more than I kept my eyes on the road in disbelief someone could kill something so beautiful and full of life. Witnessing Mia grow up proves more and more it was fate that she was pulled from death row and it was fate she ended up in my home. I never thought I could love something so much as I do Mia, and I truly believe that stems from my uncertainty of her at first. Mia does not like to be treated like a feline. She prefers car rides, cuddles with her Pit Bulls and long, long hikes and adventures. Thinking back to the moment we looked each other in the eyes for the first time makes me believe we could see beyond our appearances. We saw each other's souls. Mia is so in tune to our family's feelings and emotions. We call her our family caretaker.
Edith:
Edith, our warrior, almost died numerous times in the beginning of her life. She was found in a cold, dark alley lying on her dead mother and littermates to try and keep warm. The humane society told us when they brought her in; they discovered she had parvo, a bad case of mange, and intestinal parasites. Her chances were slim to none. Our warrior fought all of her odds and her tiny, lethargic, weak little body pulled through. I adopted Edith from the humane society in my city. When I pulled up to meet her, there were people already in a room playing with her and others who had come in after me waiting to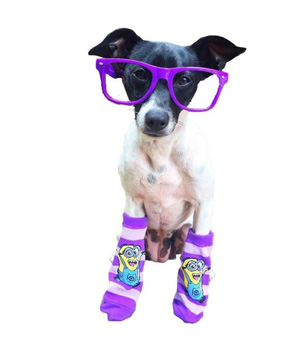 meet her as well. All of these people with the intent to adopt a small purse dog or that lived in an apartment with long work hours they thought was enough to suit a small dog. The shelter representatives predicted Edith to weigh 7 lbs. tops. It was finally my turn to play with Edith. As the family was coming out of the visiting room, I heard them talking about how wild and hyper of a puppy she was and they had seemed turned off by that. I entered the room with warning from the shelter rep that this pup was a jumper. I immediately sat on the floor to get down to her level so she didn't feel the need to jump. Edith crawled right up my chest, pancaked herself against my body and leveraged her head in between my chin and chest. She didn't move. I put her down, she went right back to that same position. We played this game for about 2 minutes. Finally, I just held her, and she didn't move. The shelter rep was in shock and giggling at Edith's new display of behavior. She took Edith from me and tried to do the same. She couldn't hold her, Edith was squirming and jumping and pawing at her, just like she had done with the others. So, I picked her up again, and again, she melted into me. I knew in this moment Edith was choosing me, and I needed to listen to her. An hour later, Edith was home with me and forever loved. Edith is now 15 lbs., double the size they had predicted her to be and can run up to 6-8 miles daily. She is the complete opposite personality of a purse or apartment dog, as she can lap our five-acre property in a matter of twenty seconds. Watching Edith sprint around our yard or bully her Pit Bull siblings makes me giggle sometimes, she ended up where she was supposed to be, in her forever home. She is a fighter, a warrior and that is why we gave her the name Edith.
Rose:
My husband and I rescued Rose from a high crime, prominent dog-fighting neighborhood in North St. Louis. Blake was working on a bridge in the area and had seen how many back yard Pit Bull breeders there were. Police officers in that municipality were taking matters into their own hands and shooting the Pit Bulls in the backyards of this particular neighborhood because of how out of control the situation
was getting. A man that lived in the area had confronted my husband about two puppies he had at home that he wanted to get out of the area as soon as possible. He sincerely cared about their wellbeing and didn't want them to get shot or picked up out of his backyard by dog fighters. Blake agreed to take a look at them and that is when he met Rose. She ran around the corner of the yard and it was just seconds before he realized she was dragging one of her hind legs behind her. Like everyone else, when he looked at her, he felt it. He knew she was a fit for our family and he had to bring her home. I will never forget the day he pulled up with her, as I watched her hobble out of his car she stood at the door and my heart fell to my stomach. Her leg looked mangled and I couldn't stop thinking about how much pain she had been in. She came right into our house and slowly wiggled her body up on the couch Roxy, Edith and Mia were all laying on and fell asleep in the matter of seconds right next to them. She knew she was home. Its moments like this that proves that feeling I had in my heart when I first met each of them. It was meant to be. Rosie made a tremendous recovery and today one would never guess that she had once had a badly broken leg enabling her from walking normally. Rose is an all-star Frisbee athlete, a runner, and can jump six feet in the air! She got the life she truly deserved.
Jake:
Jake is our only boy and one heck of a son. His eagerness to learn new tricks blows me away. He is such a smart, quick little man. Jake was an unexpected rescue, a situation that fell into our laps. I hate the saying, "Its just not the right time". Is there ever a right time to take on more responsibility? In my opinion, there isn't. Life is always busy and it never slows down. If we all sit around and wait for the right time, we will be waiting for eternity. Jake is the perfect example of that. My husband and I were moving out of our rental and had just bought our first home together. If I had a dime for every time someone told me I was crazy for adopting Jake at this time, I would be a millionaire. But I am different than everyone else and I am confident in that. To me, nothing worth having is ever easy. I saw Jake's face on a "help me" ad floating around Facebook and Craigslist. A woman, working two jobs, had been gifted Jake by a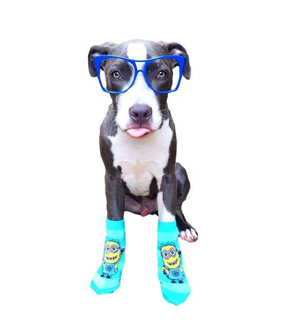 man she dated for two weeks. She told me he was never let out of his crate and she didn't have the funds to provide for him. When I saw his picture, the same feeling overcame me that I felt when first meeting my girls. Something told me I needed to meet him. The lady met me in a random parking lot, threw him in my car, not looking back at him once, and asked me if I would give her $20 for her gas to get back home. I gladly gave her $25 and headed home myself. Jake fit right in from the moment we brought him home. His vet check went good, he had a minor case of worms and he was a little underweight, but all-else seemed great. As Jake started to grow we noticed the growth rate of his jaw was abnormally faster than the rest of his body. His jaw was getting huge and we started to see it affect the way he drank, ate and played. At first glance, the vet warned us of bone cancer and we were devastated. While waiting for the results, we held Jake close to us and promised each other we would do everything possible to give him the best life and the greatest potential. Jake was diagnosed with cranial mandibular osteopathy. It is a very rare disease with no cure or treatment. To the knowledge of our vets, here in St. Louis, and the vets at the Columbia University Veterinarian Medicine Dept., Jake is the only Pit Bull known with the disease in our region and one of maybe two other dogs they have personally diagnosed, ever. We keep Jake very comfortable with pain medication and really try to keep it from putting a damper on his life. He gets fevers and becomes lethargic from time to time, which are monitored by our vet closely. This comes in waves, so we take it as it comes. I am forever grateful that we found Jake. Not many people are good at dealing with the unknown and can't seem to take their emotions out of the situation. I am scared for Jake, but I have accepted not knowing the exact course this disease is going to take. I know, no matter what, my husband and I will do everything in our power to keep him healthy and happy. We take it day by day and Jake knows we will always provide for him and love him unconditionally.
Roxy gives me peace.
Mia reminds me to be open minded and not cast judgement.
Edith gives me life, the fire within me.
Rose gives me determination.
And Jack gives me patience, reminds me to slow down.
I rescue to save souls, which in return saves a part of me I never knew needed saving. I look at each and every one of my pack members and think, that at one point, they were some one else's trash, things to dispose of. I look at them now, and their purposes in life, their potential to continue to grow and learn in this world and that alone reassures me why I do what I do. When the house is quite, abnormally quite, and I find them all cuddled up together in the bed, I know in my heart I have done good in the world. They always choose each other and constantly illustrate their close, special bond and the trust they have. People always ask me how I got five animals to live in the same house and tolerate each other. Then, they actually come over, witness it for themselves, and ask me how I got five animals to LOVE each other, respect and care for one another! All I have done is love and showed them what love means. Love is selfless and I feel that's the hardest things for humans to understand. Pet ownership has so many elements to it. Providing balance in your home is the root to success. To do that you must provide proper nutrition, vet checks, socialization, exercise and training. It is a lifestyle. This is who I am and most of the time, all I think about, even when I am at work. It's not for everyone and that's okay. There is no perfect guide to the best pet ownership, no one is perfect, and no animal is perfect. It's about listening to your pet. No, they can't talk, but they can most definitely communicate their feelings, you just need to be open to them. When a pet feels loved, protected and respected, they will give you their all, and nothing can touch that type of bond. At 27 years old, I have learned more from my pack than any human being. Listen more. Love more. Understand more.
You can follow Kasey and her pack on Instagram at @88kncorbett !
John Flores is the Founder, Owner and Creator of IPittytheBull. His pack consists of three pit bulls, two senior dogs and one pot-bellied pig, along with the many animals he has taken into his home. Follow John and his pack's many adventures on Facebook, Instagram and Twitter!