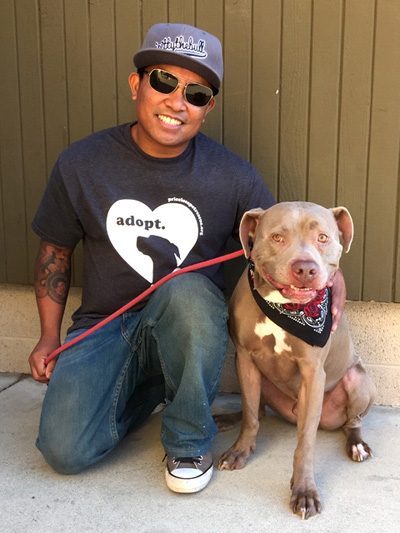 As most of you know by now, I've become a foster failure for the 3rdtime. After almost a year of being a resident of Priceless Pets, he's found his home with me and my pack. Being away with him for 5 days put me in a very emotional state and when I came back I needed to re-assess how I was feeling after my emotions had calmed down. Even after that, I knew this was the place for him. And as I do when all my fosters get adopted, I write them a letter. Here's my letter to Fletcher…
Dear Fletcher,
Let me start off with saying that, Terra was right. 10 months ago, when we picked you up from the pound, Terra said you were the perfect dog. I figured she was just saying that because this was her first pull from a pound and you were going to be put down if we didn't take you. You passed every test and on April 1st, 2014 you became an official Priceless Pets resident.
As the days passed, you started hurting yourself in your kennels and trying to escape every chance you got. You were reactive to male dogs and every time we found a nice calm female to room with you, they would get adopted and you would get passed over.
As the months passed by, you seemed to be getting worse. Your face was always red and you were losing your fur. You started to shut down at the rescue and it got to the point where you were the last dog being picked to walk on the weekly pack walks. We thought putting you in a foster home would help but it just wasn't the right fit. Soon after that, I offered to foster you.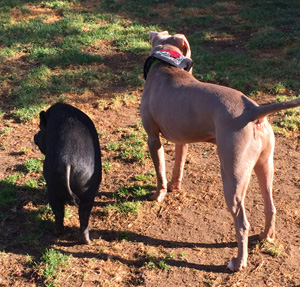 In the back of my mind, there was no way you were meeting my pack. There was no way I was putting my pack with such an unbalanced and nervous dog. And when I did try, you proved me right. You went after Wally…then Elvis. The only one you felt comfortable with was Penny so I played on that. Terra said you needed a couch to lie on so I tried that. Once again, Terra was right. Within a month, you had completely integrated with the pack.
Then I adopted, Snack Pak. By now, I was catching on to the fact that you don't like change. I know, most dogs don't but you're so sensitive that your adjustment time takes a little longer than the rest of my pack. I think I lost count on how many times you went after this little pig. And any thoughts of keeping you had gone out the window but that was alright because not too many people would have a pig in their house.
In between all of this, you had one family who just loved you. I'm sure you remember her, her name was Michelle. She had a dog named CoCo who looked just like Penny. I thought she was the one. You got along with her dog and she was so in love with you. I could see it in her eyes. She put in the time with multiple meet n greets but I could tell your anxiety made her nervous but only because she loved you so much she didn't want to do anything wrong.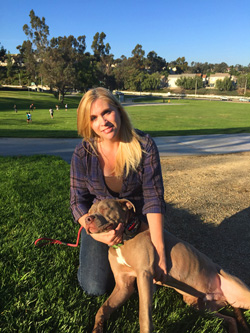 By now, you had gotten over your issue with Snack Pak and everyone in the house was co-existing. It was awesome. For the first time, I really started to consider adopting you but I had an opportunity to bring you to train with Cesar Millan and his staff for 5 days. I thought this would be a perfect way to work on your issues so I took you with me in hopes that this would be the final step in your journey of getting adopted.
Once I got there, I wasn't sure how you were going to act. You seemed to be doing alright but as soon as the first dog started barking you turned back into the "old Fletcher". The anxiousness, the nervousness all started coming back but the trainers didn't address that in you…they addressed that in me. Once they got me to relax, you followed suit. Cesar, himself, told me that your sensitivity could be your worst enemy or you best friend. And by the end of the 5 days there, I saw all your weaknesses as your strengths. I knew you had to stay…
You see, every dog plays a certain part in my life. Penny reminds me that I need to take chances. Elvis reminds me that life is fun. Wally reminds me to never give up and Snack Pak teaches me patience. But you, Fletcher, you may play the most important role because you tell me how I'm feeling. Because you see, I'm a lot like you. Though I may hide it well, I'm sensitive just like you. I'm always worried about what people think and how people will perceive me. Except while I can fake it by talking fast and telling jokes, you do it by growling, barking and running away. And I know the only way you will calm down is if I do. You just don't need me, I need you. My best days with you haven't been the days where everything has gone well; they've been the days that have gone bad. It's the bad days where I've learned the most and it's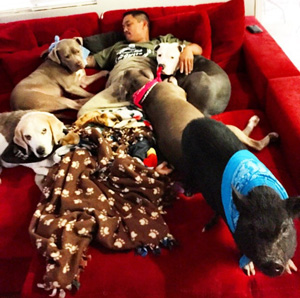 the bad days where I've had the most progress with you. You have no idea how much you're gonna help not only me but help me with other people's dogs.
Terra was right. From the beginning she told me all you needed was love and a couch…but what she didn't tell me was all our pack was missing was you.
I love you, Fletcher. I brought you with me to train with Cesar in hopes that someone would fall in love with you and adopt you. I just didn't know it would be me.
Love,
John
John Flores is the Founder, Owner and Creator of IPittytheBull. His pack consists of three pit bulls, two senior dogs and one pot-bellied pig, along with the many animals he has taken into his home. Follow John and his pack's many adventures on Facebook, Instagram and Twitter!