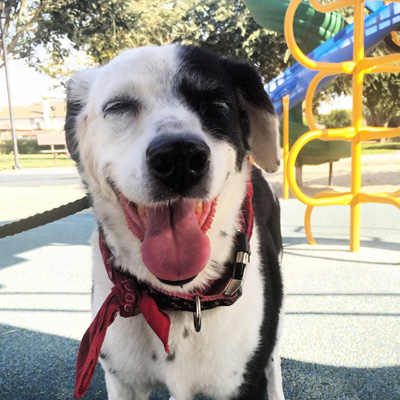 Dear Betty's previous family,
Maybe you don't recognize the name but I know you recognize the face. If you're wondering if this is your Bessie, the answer is yes. The only thing is she's now our Betty.
I'm not here to judge you. I don't know what happened that made you make the decision to dump your dog at the pound but after 16 years I'm hoping it was a good one. I want you to know she spent 8 days in a high kill shelter. I know you saw the same place I saw and I think you would agree with me it's not the most ideal housing arrangements for ANY dog, let alone a senior. I honestly think the only thing that kept her from completely shutting down was that she's deaf and couldn't hear the cries and barking of the other dogs that were in there. And maybe the cataracts in her eyes made her vision blurry enough so she couldn't quite see where she was at but you know what works perfectly? Her nose does. So for 8 days, the familiar scent of her family of the past 16 years was replaced by the smell of death, uncertainty and despair.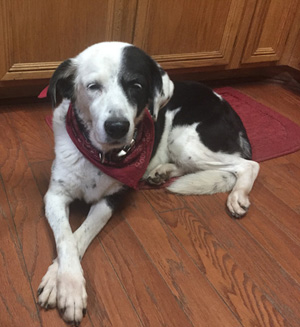 If it wasn't for her picture being spread across social media, she certainly would have died in there. I didn't see her picture until the 8th day and I rushed down to the pound praying it wasn't too late. Thankfully, it wasn't.
I must say, you did take good care of her. She was already fixed, her coat was nice and she wanted nothing to do with me. I looked into her eyes and saw a dog who was confused and did not see me as someone there to save her. She was looking at me as if she was completely let down that it wasn't you that came to pick her up.
The first week she was with me she bit me a total of 5 times. She wanted nothing to do with me or any of the dogs in the house. Again, the scents here were nothing like she was used to for the past 16 years. She walked stiff and she shook every time she exhaled. She would fall multiple times for no reason and run into walls. We gave her the space she wanted. I knew I could never replace the family she was loyal to for the past 16 years but at least I could let her retire in peace and not the hell hole she was left at.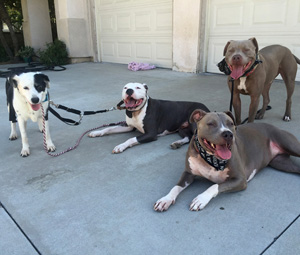 But as one week turned into two and two turned into 3 something almost magical happened. For starters she stopped showing her teeth to me and biting me but she stopped limping. She stopped the shaking and she began to accept her new home as her forever home. Our creaky old Betty was now going on walks with the youngin's and the other day she even jumped over 3 foot bench in my backyard. And she did it with the biggest smile on her face as if to tell me she still has plenty left her tank.
Your dog has not only become an ambassador for senior dogs but she's also become a big "pit bull" advocate and she's probably going to end up on a t-shirt. Again, I'm not here to judge you…but if you do decided to get another dog, I'm asking that you keep them until the end. Be there with them for their last days no matter how hard it may be on you because you just being there will make it easier for them.
And if that's too much to handle then maybe a dog isn't for you because I may not be there next  time to save that one.
I can honestly say that the only thing Betty would want more than to spend her last days with me would be to spend them with you.
Thank you for your time.
John, Penny, Elvis, Wally, Snack Pak, Fletcher…and Betty.
John Flores is the Founder, Owner and Creator of IPittytheBull. His pack consists of three pit bulls, two senior dogs and one pot-bellied pig, along with the many animals he has taken into his home. Follow John and his pack's many adventures on Facebook, Instagram and Twitter!