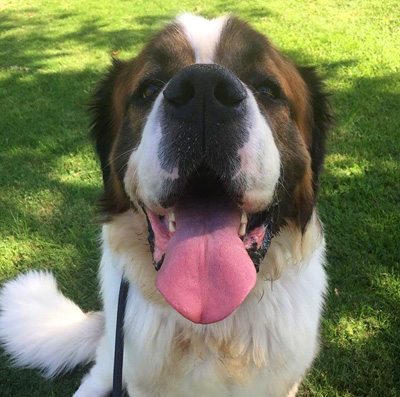 About 3 months ago, Rescuing Philly Phoundation asked me to foster a St. Bernard named Sully. He was rescued off death row at the last minute and while he got along great with any and all dogs, it was humans he was selective about.
You see, Sully had bitten his two previous fosters. At first, we thought it was men but then he bit a female foster. But he was AWESOME with the girls at the rescue and all the employees (men and women) at the boarding facility he spent time at.
I was asked to foster Sully because they had heard about the progress I made with Fletcher. Out of the 50 plus fosters I've had in the past 2 years, I've never worked with a dog that was human selective. I agreed to come meet him and if the meet n greet went well I would foster the big guy.
When I got there, he did not want anything to do with me. He saw me through the clear door and immediately started growling, barking and pressing his face up against it. But when he saw my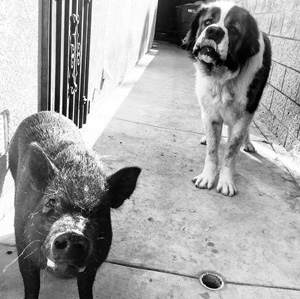 friend, Gina, he stopped. Great for her but she wasn't the one there to foster Sully! I then watched the girl who was working at the boarding facility go in there like it was nothing and then I saw a man walk in there right after and again nothing happened.
So I took my time. As soon as he stopped barking at me from behind the door, my dumb ass opened the door and stepped in. He growled, he barked, he sniffed me, he backed up, he charged at me again just stopping inches from me. I knew if I moved back, he would probably bite me. I knew if I moved forward he would probably do the same so I stood there and looked up at the ceiling and pretended like I wasn't scared out of my mind. After a few minutes, he lay down, we put a leash on him and we left. I haven't had a problem with him since.
Our first walk together was amazing but walking a 150lb. St. Bernard is much different than walking 3 "pit bulls". EVERYONE wants to pet Sully but Sully doesn't want everyone to pet him. I can't say he doesn't like people because he likes a handful of them. I figured he just needed time to adjust after being bounced around so much so I gave him some time.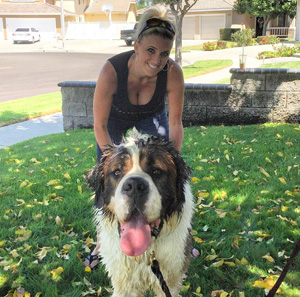 About a month into fostering him, the rescue contacted me and said that Sully had a meet n greet! I was so excited for him!! But then I started to second guess myself. On one hand, I saw how great he was with me, my girlfriend and a few other people but then I also saw how not great he was with some people. I talked to the lady on the phone and explained Sully's history and she still agreed to meet him.
When the family got there, Sully was not feeling them. He was barking so much he was drooling. I figured if I brought Elvis out he would calm down and eventually he did. We walked to a park by my house and I had the lady walk next to me as I stood between her and Sully. I asked her how she was feeling and she said she felt great. I asked her if she was nervous at all and she replied with a very confident "no". I handed her the leash and after she walked a few yards, Sully bit her arm. He let go right away but the damage was done.
Not just for Sully but for the lady, too. It was the first time she'd ever been bit by a dog and now she may or may not have a fear of big dogs and she may or may not like St. Bernards anymore. I have not spoken to the lady since and I do hope she is healing well, not only physically but emotionally. It's not so much the fact that she didn't adopt Sully but the impression Sully left on her.
I finally decided that Sully was beyond my abilities and asked for help. I was fortunate enough to have the founder of the School of Dog Psychology come over and help provide me with a game plan to help rehab Sully which we will be sharing with you very soon but before we even began he was very honest with me and while this is not word for word this is the gist of what he told me:
For 3 years, Sully has gotten away with doing what Sully does because nobody has taught him how to act. It also took him 3 years to find me and for the past 3 months I've only enabled him to act the way he always does. His behavior has been justified because nobody has ever followed through. Nobody has been there for him. Nobody has shown Sully what makes them happy. Now I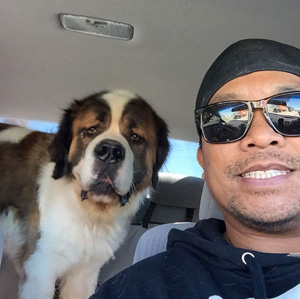 have to reverse 3 years of how he's always acted to now behaving a different way. And even after Linn helps me rehab him we now have to find a second needle in the haystack and find that family that wants to continue with all we are about to teach him. Dogs never do anything wrong. They only do what they know. And the time has come for Sully (and me) to learn a different way. All his life he's been able to push people away. He may not be at the pound anymore but we haven't "rescued" him, just yet. And I'm glad I don't have to do it alone.
How can I ever help Sully find "home" if I can't help him find "calm".
We have all heard the saying, "You don't always get the dog you want. You get the dog you need." Sully is here for a reason and I realize that but I also found the person I need, too. His name is Linn Boyke.
Thank you, Linn.
And Sully, we are starting back at one…we are not giving up on you.
If you have any questions about Sully you can contact the Rescuing Philly Phoundation at phillyphoundation@yahoo.com. 
John Flores is the Founder, Owner and Creator of IPittytheBull. His pack consists of three pit bulls, two senior dogs and one pot-bellied pig, along with the many animals he has taken into his home. Follow John and his pack's many adventures on Facebook, Instagram and Twitter!